A native of New Jersey, I am a graduate of the Pingry School, Bowdoin College (A.B. in Mathematics) and the State University of New York at Albany (M.S. in Mathematics).

I started my programming career in 1966 with a two-and-a-half year assignment as a commissioned officer in the United States Public Health Service.

Following that, I joined IBM and began a twenty-five year career in programming and middle management. I was the architect and development manager for the human resources system which IBM still uses today. My specialty became management of large-scale conversions of major portions of IBM and its acquisitions from one human resources/payroll system to a new one.

I retired in 1993 and joined Technology Service Solutions (TSS), a start-up company funded by IBM and Kodak, whose goal was to become the premiere provider of personal computer service in the country. For five years, I served as their Director of Human Resources Information Systems. In 1998, my desire to become my own boss led to my establishment of Ted Strauss Websites, LLC.

In the past twenty years, I have been so fortunate to have developed a wonderful following of artists, artisans, antiques dealers, horse farms, ambulance corps, bed and breakfasts, real estate offices, fine art dealers, retail stores, consultants, cartoonists, jewelers, and many other small business people searching for someone who will develop a high quality, professional website for them at a fair price. I am pleased to say that many of my clients have come as a result of personal referrals from other clients.

You will also find that while I am able to converse technically, I limit that when speaking with my clients, most of whom use a computer as a tool and not as a business in itself. I want to impress you with my ability to communicate, and not use the latest computer jargon. One of my clients says by analogy that she has no interest in how a refrigerator works; all she cares about is that it keeps the food cold. Amen!

Unlike many others who develop sites, I am a full-time web designer with a wealth of business and technical experience in this field. I've always thought it is important to focus on the area in which one's skills lie, and not be a jack-of-all-trades. Sixteen years in the web design business, however, has given me a strong appreciation for the work of my small business clients. As a small business owner myself, I understand the business problems and pressures, and try to make my clients' portion of the design process as easy as possible.

My business is committed to your total satisfaction. When you have a site developed by me, all design, implementation, and testing is done by me personally. I stand behind every page of every site that I design.

* * * * *

Since 1977, Janice, my wife of forty-seven years, and I have lived in a Connecticut saltbox colonial built in 1734, which we have painstakingly restored and which has now been listed on the National Register of Historic Places.

When I'm not working on your website, Janice and I (and almost always our cat Linus) can often be found sailing our classic Sabre 34 sloop Eagle's Wing between our home port of Saugatuck Harbor Yacht Club in Westport, Connecticut and the waters of the North Atlantic as far north as Maine.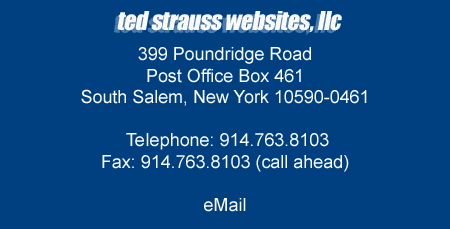 © 2018 TED STRAUSS WEBSITES, LLC

ALL TEXT AND PHOTOGRAPHS ARE THE PROPERTY OF TED STRAUSS WEBSITES, LLC

AND MAY NOT BE REPRODUCED WITHOUT WRITTEN PERMISSION.

ALL RIGHTS RESERVED.